COMMENTARY
Smile. If you're protesting in Providence, you're being recorded.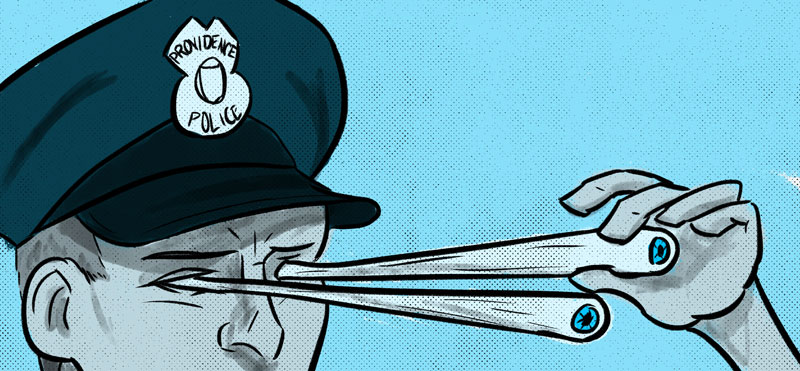 Illustration: Brendan Lynch
On five occasions during the past two years, according to the ACLU of Rhode Island, the Providence Police Department has video-recorded peaceful demonstrations, including one involving the Khmer Buddhist Center and another staged by a Unitarian Universalist church. Demonstrations in response to the police shooting of black men in Ferguson, Missouri, and in New York City were recorded as well.
The surveillance, according to the ACLU, "raises serious First Amendment concerns, particularly when that recording takes place absent any articulable reasonable suspicion that criminal activity is taking place."
But Providence public safety commissioner Steven Paré, our Muzzle winner, is unapologetic, telling the Providence Journal that the practice is "not to intimidate" but, rather, is a resource the police can use if a crime takes place.
Video-recording, of course, has become an important tool in holding police officers accountable — and, for that matter, of demonstrating when officers acted properly, as was the case in April after a shooting left a Boston officer wounded and his assailant killed.
Still, it can have a chilling effect on speech when police officers themselves are wielding video cameras. Paré tried to argue otherwise, telling the Journal, "The police, in their official capacity, have a First Amendment right as well. People videotape us in public spaces all the time."
But that's turning logic on its head. As Hillary Davis of the ACLU was quoted as saying, "The police and protesters are in very different positions. Police have an ability to use video in a way that protesters don't. The public cannot put the police in jail. The police can put the public in jail."