COMMENTARY
Somerville Police officer harasses camera-wielding activist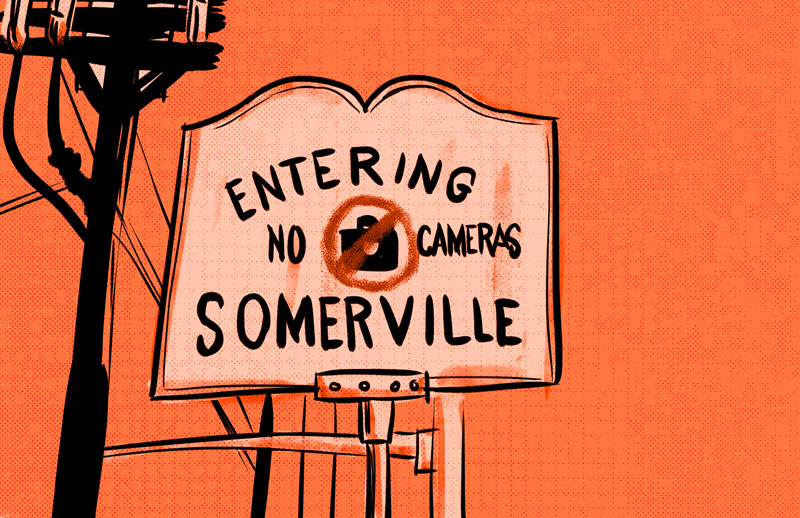 Illustration: Brendan Lynch
The public's right to video-record police officers in public places is never secure. It has to be won over and over again. Given the importance of citizen video in documenting police conduct and misconduct, it's a right worth fighting for.
Among those who found herself on the front lines during the past year was Wenzday Jane, a well-known bicycling activist who lives in Somerville. In June 2014 Jane used her cellphone to record Somerville police officer Devin Schneider as he spoke with several teenagers in Prospect Hill Park following an assault against one of them.
While she was recording, according to the Somerville Journal, Schneider ordered her to produce identification. She refused at first, then relented after he threatened to detain her. Some time after their encounter, Schneider filed a criminal complaint, charging Jane with trespassing (the park was closed at the time) and interfering with a police officer.
Not surprisingly, a judge in Somerville District Court dismissed the charges against Jane last December. Deputy chief Paul Trant defended the prosecution, telling the Journal that Schneider charged Jane because he found her behavior distracting. "I think this is a unique case," said Trant. "It's not a case that anyone who videotapes police will have a criminal complaint against them."
Jane, who was represented by the ACLU of Massachusetts, had a rather different reaction. "Luckily, I'm a white middle-aged woman with some level of confidence in myself," she was quoted as saying. "If this was me 20 years ago, this charge may have ruined my life. I could have lost my job."