---
A US senator from Massachusetts who wants the federal government to monitor so-called hate speech on television, radio, and the Internet. A local official in Rhode Island who disparages complaints about an unconstitutional law prohibiting anonymous political speech as "absolute nonsense." A Maine official who pleads with legislators to reinstate a ban on releasing 911 calls, even though such calls are public records in most states.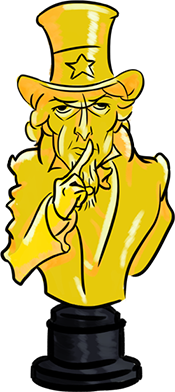 These are just a few of the cases that comprise the 17th Annual Muzzle Awards — a Fourth of July round-up of outrages against free speech and personal liberties in New England during the past year.
The New England Muzzles, sadly, are a reflection of repression at the national level. Last year at this time, we were learning from Edward Snowden the extent to which the government spies on our email, telephone, and other electronic communications. This year, a New York Times journalist, James Risen, faces jail for refusing to testify in the trial of a former CIA agent charged with leaking classified information to him.
In February, the New England First Amendment Coalition presented Risen with the Stephen Hamblett Award for his staunch defense of the First Amendment. The award is named after the late publisher of the Providence Journal.
"The choice is get out of the business — give up everything I believe in — or go to jail," Risen said, according to a Boston Globe account. "They've backed me into a corner."
The Scrum podcast parses the Muzzles. Subscribe on iTunes
The Muzzle Awards are intended to single out the dramatic and the petty, the epic and the absurd. The First Amendment guarantees freedom of speech and of the press. Yet as these examples show, the battle to maintain those freedoms must be fought every day.
Launched in 1998, the Muzzles' home was the late, great Boston Phoenix, which ceased publication in 2013. This is the second year they have been hosted by WGBH News.
A RECENT DEVELOPMENT: Before we get to this year's winners, a blast from Muzzles past: In 1999 we awarded a Muzzle to two Massachusetts legislators, Susan Fargo and Paul Demakis, for pushing a buffer zone to keep protesters at a distance from abortion clinics. Fifteen years later, the US Supreme Court agreed, ruling that such buffer zones are an unconstitutional abridgment of the First Amendment. The Court outlined several less intrusive, constitutionally permissible alternatives to protect women, and we hope the state legislature will act quickly.